Marilyn Goldberg, President of Museum Masters International is proud to announce the Waldorf Astoria Kosciuszko Foundation Dinner and Ball held in celebration of Polish honored artist TAMARA DE LEMPICKA by the American Center of Polish culture, celebrating 90 years of international success!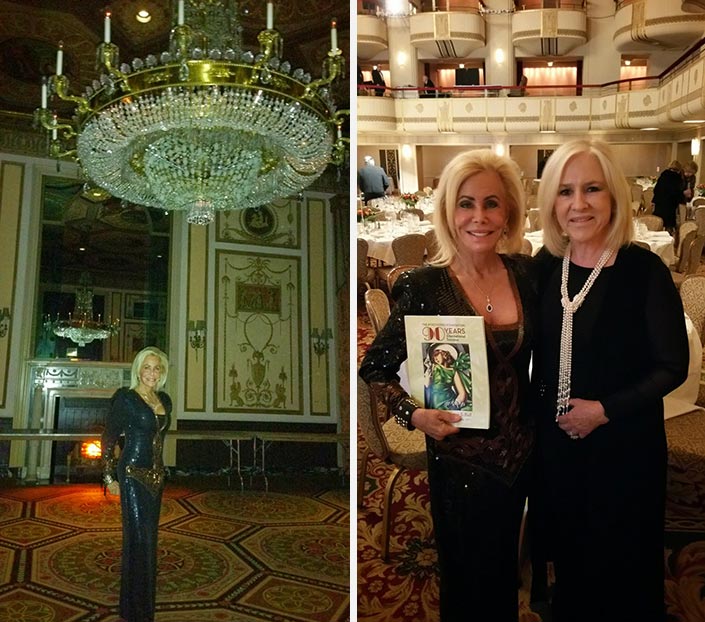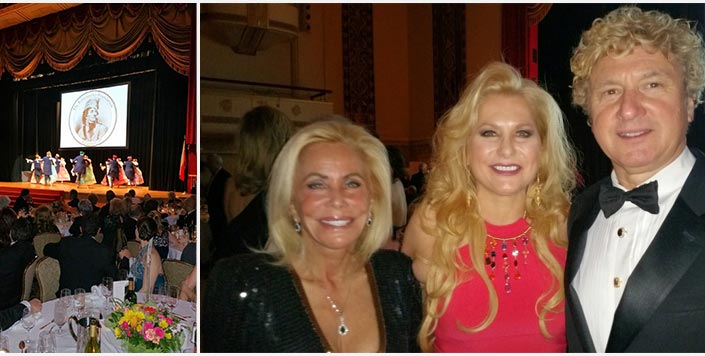 Marilyn Goldberg President Museum Master with Kosciuszko Leaders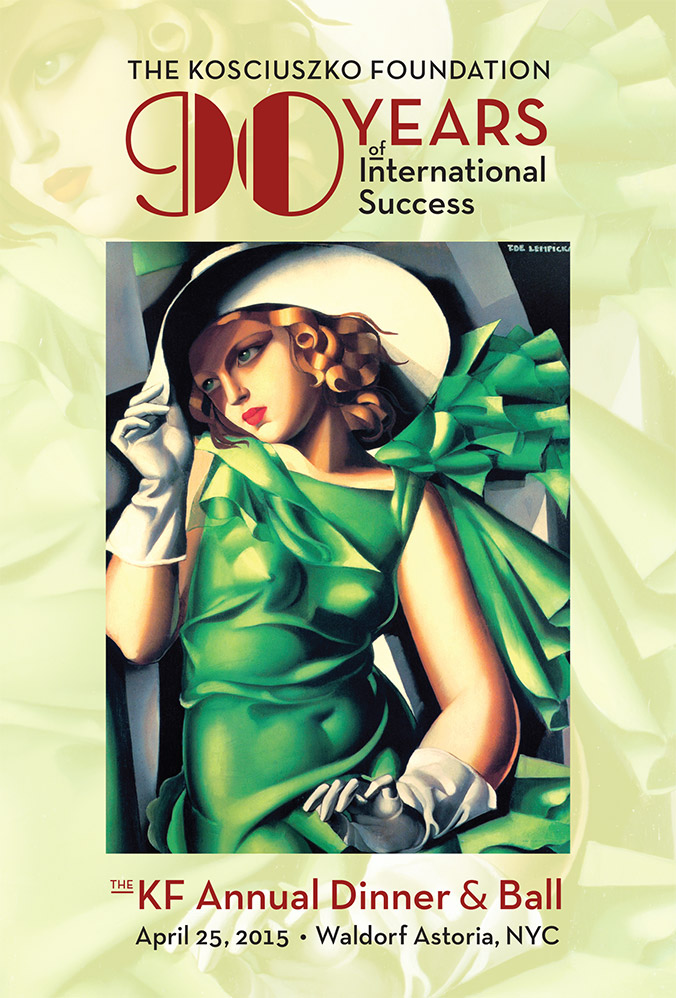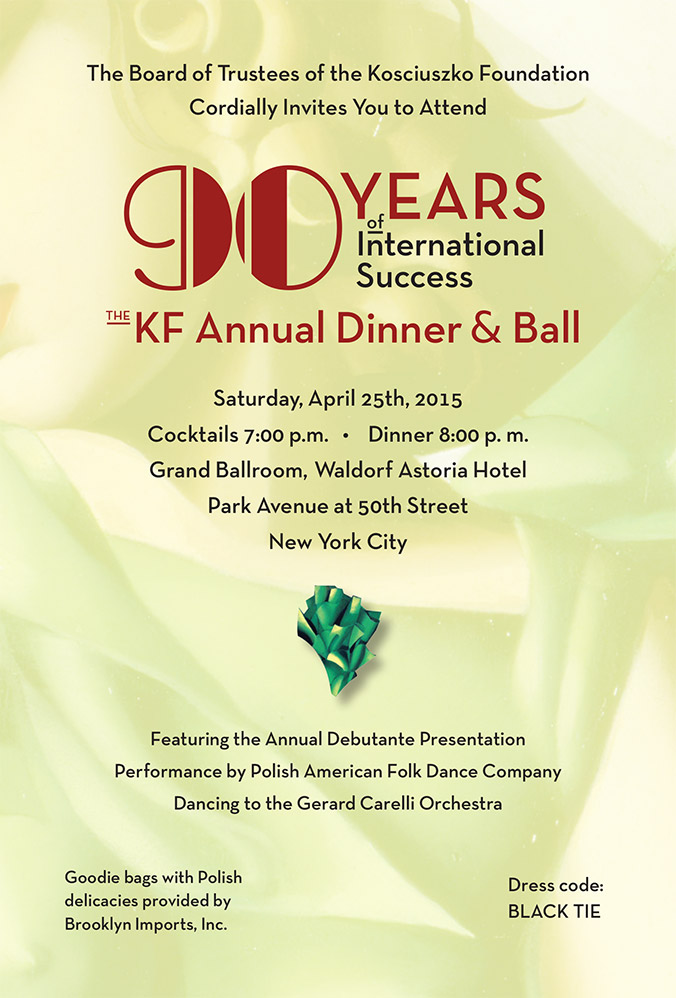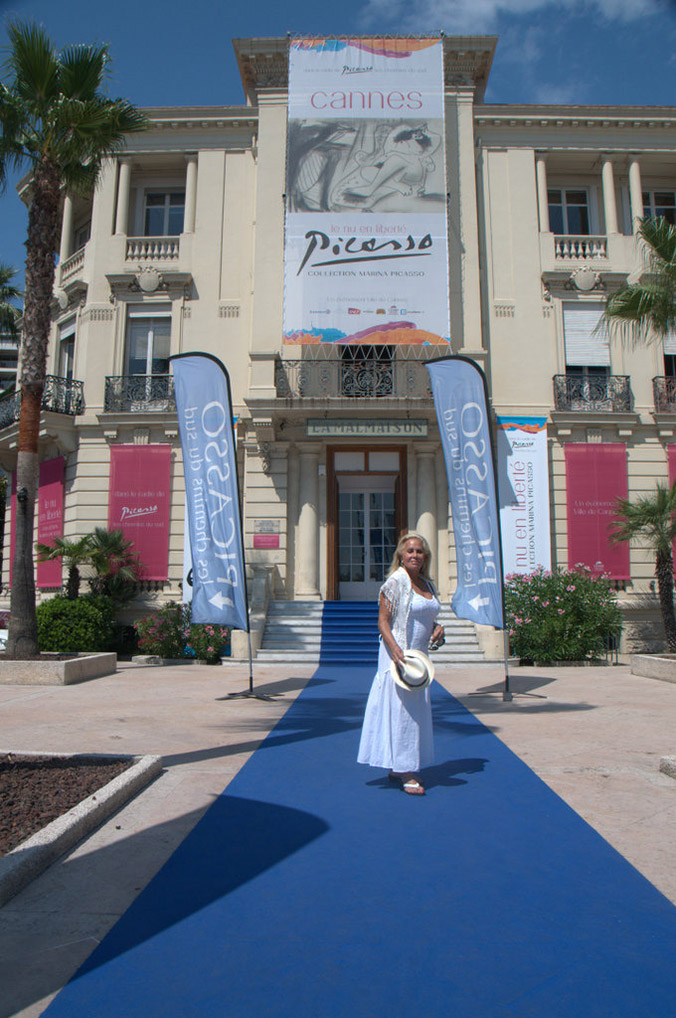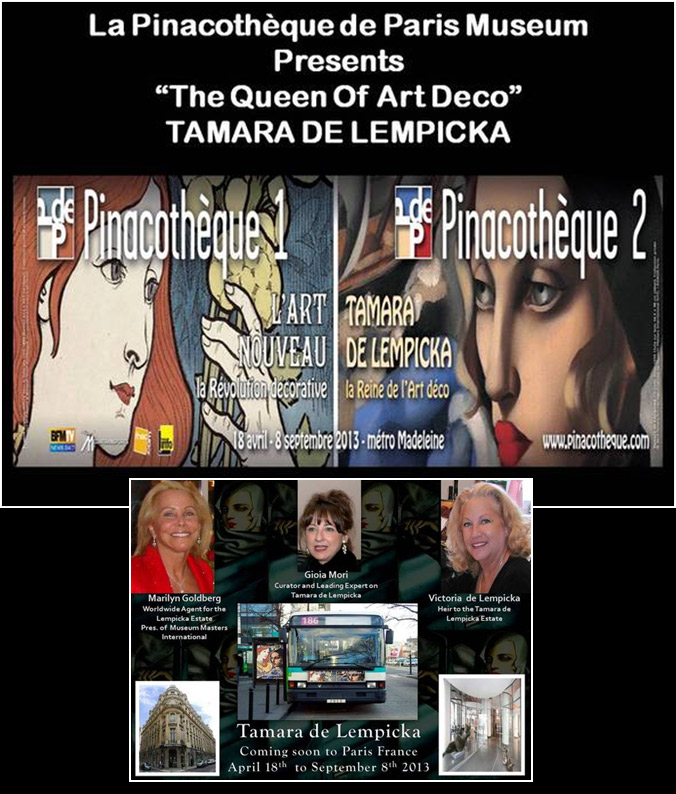 With over two million visitors in three years, la Pinacothèque de Paris has established itself on the French cultural scene. This artistic complex, became essential, providing visitors with 5000 square meters of exhibitions, as well as educational activities and cultural events such as the recently exhibited artwork of Van Gogh that ended on March 17th 2013.

The exhibition featured at Pinacotheque de Paris took place from April 18th 2013 to September 8th 2013 in Paris, France. Followed by plans negotiated with the president of Poland for Warsaw future of the art deco movement for Queen of Art Deco with king of art deco Erte. The exhibit allow visitors to discover the first retrospective of the Art Deco movement in evolution through one of its icons, Tamara de Lempicka.

Tamara is contemporary Art Deco. She creates her finest works from 1925 to 1935. Her career and life are related to the movement that it is the most famous representative. Illustration of the Roaring Twenties, a lifestyle, a form of worldliness and creative freedom of thought and it takes a very particular style which gives it a place quite apart in modern art. Unclassifiable, yet she signs the finest masterpieces of Art Deco.

The Pinacotheque de Paris, in collaboration with Victoria De Lempicka, daughter and heir to the Estate and Marilyn Goldberg, President of Museum Masters, chooses today to show the work of Tamara and illustrate how this artist through her work but also her personality and unclassifiable ambiguous, will stick perfectly to the period it represents. Thank you to Gioia Mori, curator and expert on Tamara de Lempicka, Hired by Marilyn Goldberg, president of Museum Masters. Special thanks to all the private and institutional collectors around the world for their generosity and support.
For more information visit: www.pinacotheque.com or www.museummasters.com/tamaradelempicka.shtml
PepsiCo Italy launches Marilyn Monroe can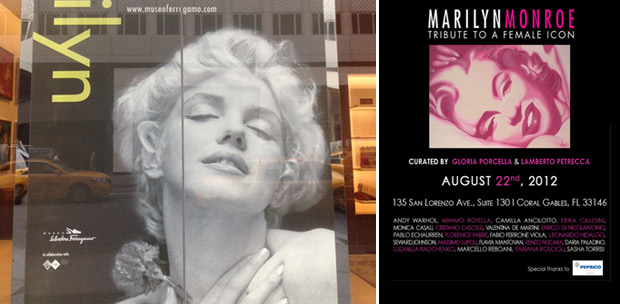 Wednesday, September 12, 2012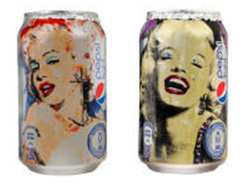 This story ran in PEPline, PepsiCo's global employee newsletter. This license is proudly introducing the famous artist, Andy Warhol's long term partner Sidney Randolf Maurer of www.CelebrityIconsGreats.com. www.sidmaurer.com

PepsiCo Italy has launched a Pepsi Light limited-edition can to celebrate the life of Marilyn Monroe. Sid Maurer, an artist famous for his Internationally renowned celebrities also famous for his famous paintings of Marilyn, was selected by PepsiCo Italy to create a design that captures the film icon's charisma, femininity and sex appeal.

The Marilyn Monroe can is on sale throughout Italy and currently on view in the U.S. at the "Marilyn Monroe | Tribute to a Female Icon" exhibition at Galleria Ca'd'Oro, Miami, Florida. This began the Internation exhibitions of Celebrity Icons, Sid Maurer originals world wide.


www.VillaMarilyn.com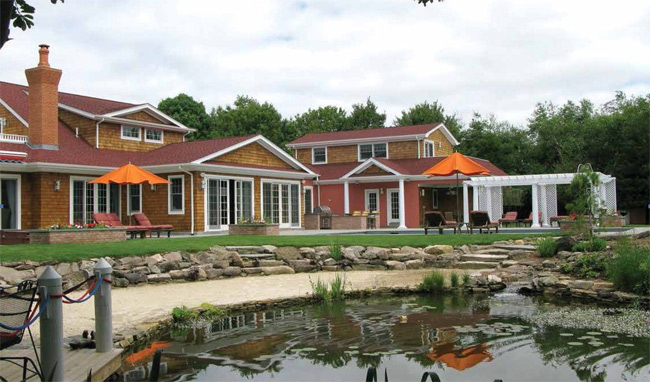 Villa Marilyn sculpted rock beach and Monet Waterlily Pond, custom outdoor B-B-Q kitchen, Indonesian custom parasols

- See Other Villas


A Visionary's Dream Comes True In A Hamptons Artistic Paradise
By VICTOR B. FORBES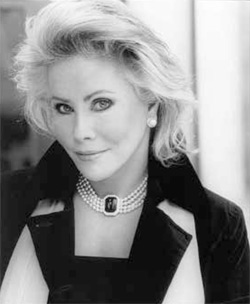 Marilyn Goldberg

All Photos © Courtesy

MJR Michael J Rothbart


To truly understand the impact and influence of one woman on not only the artworld but on the lifestyles of multiple generations, you would need to have been at the New York Coliseum, circa mid 1980s, when Artexpo was the king of art fairs and Marilyn Goldberg's Marigold Enterprises was the star attraction. For many consecutive years, there would be a crowd lined up at the Coliseum's massive glass front doors leading to the Javits Center on opening day for the trade, waiting for the bell to ring so they could make a beeline to the MariGold/Museum Masters booth. There, they would find hundreds of products from Picasso ashtrays to stunning paintings from unknown Chinese masters to works by the giants of the 20th century to unknown but soon to be famous artists. Peter Max, Gian Carlo, Impiglia, Lempicka, Markus Pierson, John Lennon, Erté, Warhol, Dali, Kevin Kelly, Arlen Schumer, Justin Love after years of Vicent Van Goghall, Monet, and Renoir. Many of the art merchandise items and litho prints were limited editions. Art galleries and museums from around the globe ordered from MariGold/Museum Masters. Art Merchandise headlined by Pablo Picasso, Lempica, Dali, Harring, Van Goh dinner wear, bedding and gift bags that revolutionized Museum shops began after years of designing in Japan for Mitsukoshi dept. stores the first museum art merchandising shops by creating shops create din the world commencing with the Guggenheim and Hermitage museums. Marilyn Goldberg went on to formulate the incredibly lucrative Erté sculpture and tapestry programs, after bringing Erte for his opening arranged by her at the French embassy NYC. Followed by the unique foundation approvals for tapestries of Picasso, Andy Warhol and Keith Harring in limited additions of them with 80 knots per square foot in sizes approx. 6x8 feet. Today Marilyn Goldberg dictates the chapters to be published of her new book "Marilyn's Miracles".

Years with Erte have affected the artwork, carpet designs, and even gift bags and note cards for the guests who will be staying in this grand and palatial environment. Her international promotion of the artist Tamara de Lempicka to major museums brought her paintings to the eight figure mark at recent auctions. For most, this would be more than enough work for a dozen lifetimes, but to Marilyn Goldberg, it was all a practice run for her dream: the Villa Marilyn Art of Living home in Southampton, New York, which was completed in June of 2012.

This incredible place welcomes you with handmade iron gates, a large private circular drive surrounded with stone and Belgian Block and exquisite double glass handcrafted
Marilyn Monroe Cinema Theater, graced by Sid Maurer Celebrity Icon paintings
mahogany doors opening into the entrance foyer where you are greeted by a Keith Haring Americana tapestry and European hand-made crystal chandeliers. Warhol's Marilyn Monroe tapestry and Sidney Maurer's Brigitte Bardot portrait add to the star power to delight for the tasteful and artistic eye. Says Marilyn, "Living with art, color and design have been my life!

Every window explodes with views of flowers and gardens planted from bulbs from around the globe. With impeccable taste honed over decades of international business, this stylish woman has built her dream. Inside the gorgeous and newly furnished home are six fabulous bedrooms with custom electric positioning beds covered with European bed linens custom made for 25 years for Ms. Goldberg by Bette Nagle in Germany.

The landscaping includes sculpted stones from Arizona, carved bronze banana leaf bronze bases for coffee tables from Hawaii, outdoor furniture hand-carved in Indonesia, with the most amazing parachute umbrellas of Mandarin orange that can dance in the wind, and flow with the breezes of the Atlantic.

"I had a dream," said Marilyn, "when I was 20 living in Amagansett on the ocean. It was to build a sanctuary and honor life. Villa Marilyn has replicated the gardens of Monet in Giverny, and The vegetable garden and fruit orchards are graced with Liechtenstein and Miro Art cats hand painted by Israels great artist David Gerstein, Fresh mint abounds so we can drink home brewed teas in the Moroccan Arch rooms. The abundance of nature thrives in this Villa! It is a paradise for children who are awestruck and entertained incessantly with the boat dock pond, and waterfalls."

New headquarters for her company, Museum Masters International, Villa Marilyn's houses and condos are also available as the place to enjoy family reunions, special friends, and business meetings with clients. Vacations here may be reserved in advance by contacting MMIMarilyn@aol.com or calling 631-377-8497. Special thanks and kudos go to Gaetan Berube Builders South Hampton, Victor Rojas Landscaping, Rudy Bonilla ,Exquisite Giant Tree Surround and Hedges South Hampton, East End Country Kitchens Custom Cabinetry. There will soon be a documentary made in Rome on Ms. Goldberg's Art of Living and a book on her life as well as a world tour of exhibitions and merchandising for The Vatican in Rome by 2023. The story of all the chapters will be found in Marilyns Miracles.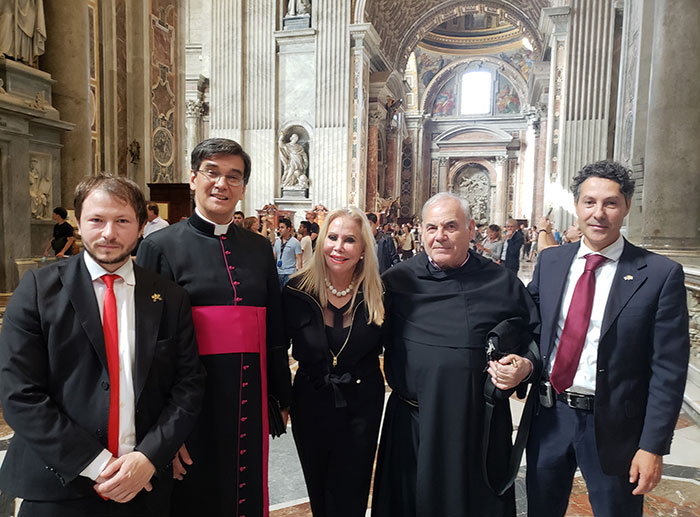 Tota Pulchra Ars Vaticana
SOPHIA LAUREN EXHIBITION ORIGINAL PAINTINGS:
Roma In Italy Celebrates Sid Maurer's Sophia Lauren Original Portraits as did the Beilin Gallery in 1968 on Madison Avenue.

Images for Sophia Loren Vittoriano Exhibition followed by "Pepsi Exhibitions" of the celebrities & Sophias dear friends Marilyn Monroe, who was introduced by Anna Strasberg after the Retroback Exhibition in Grandada Spain.
Organizer of the Exhibition Events was MaraGold TV of NYC who formed collaborations for Art and Celebrity Exhibitions with Museum Masters International and Sophia Lauren International.

Museum Masters has represented for over 3 decades Picasso, Andy Warhol, Salvador Dali, Keith Haring, Tamara de Lempicka and Sid Maurer.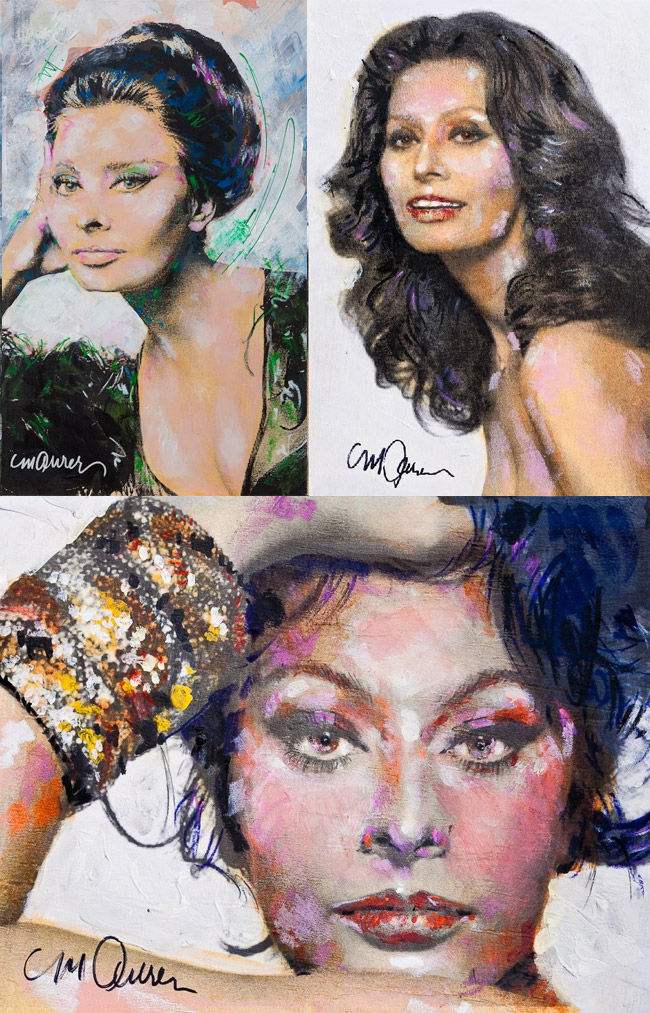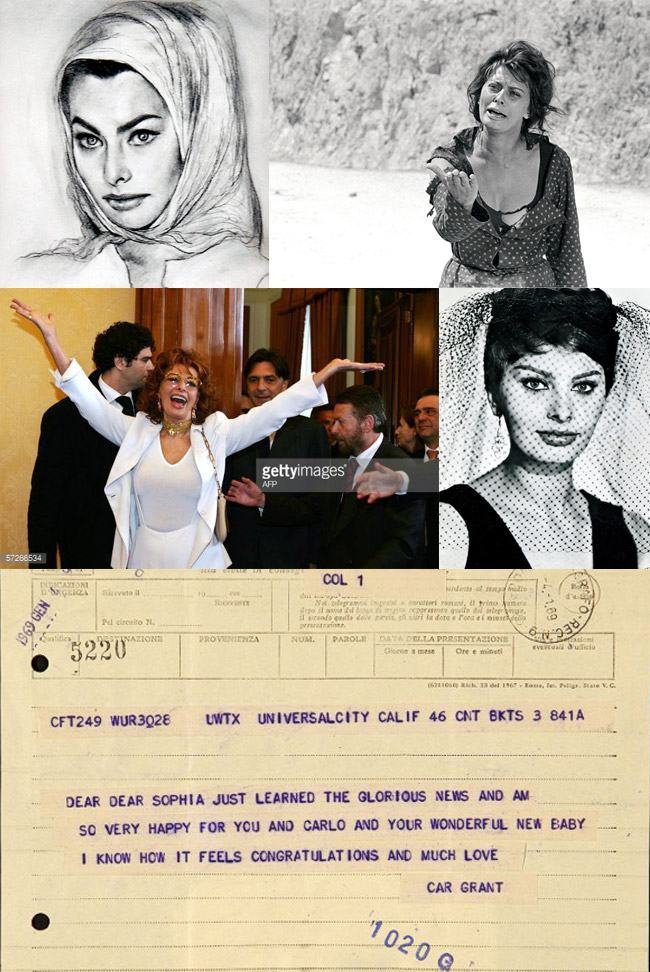 Sophia loren vittoriano exhibition
Sid Maurer is represented by Museum Masters, and has lent his collection to The Vittoriano Exhibition of Sophia Loren for the Sid Maurer world tour. Both Anna Strasburg and Sophia Loren are both Godmothers of Drew Barrymore.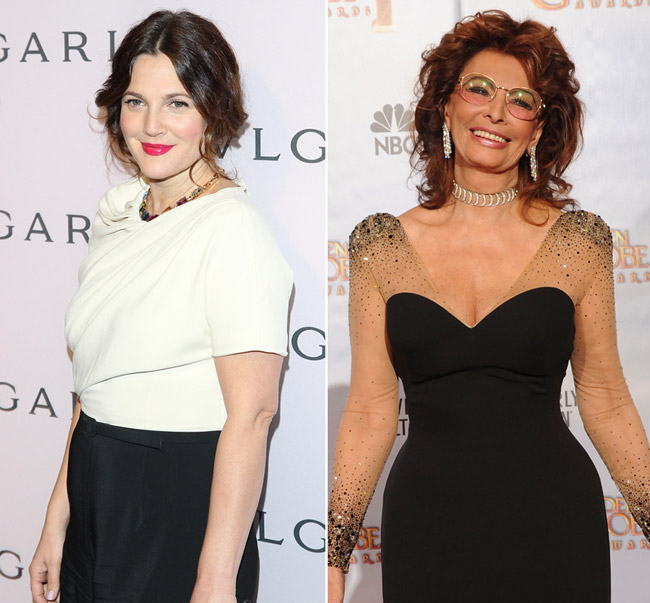 Sid Maurer, Sophia, and Marilyn Mornoe did Sids First 1968 Exhibition in NYC when a documentary for NY television was prepared for Broadcast. Sid Maurer than presented his releases from Sophia Loren, Marilyn Monroe, and Robert Guccione owner of Penthouse, the releases on the images for Maurer's continued usage were issued through the Beilin Galerry of Madison Avenue in NY where Sid's first major 1968 Iinternational Gallery Show took Place. Both Marilyn Monroe, and Sophia Lauren , were brought to Sid by Anna Strasburg then handling Marilyn Affaire, whose best friend was Sophia, They were interviewed, photographed and painted by Sid Maurer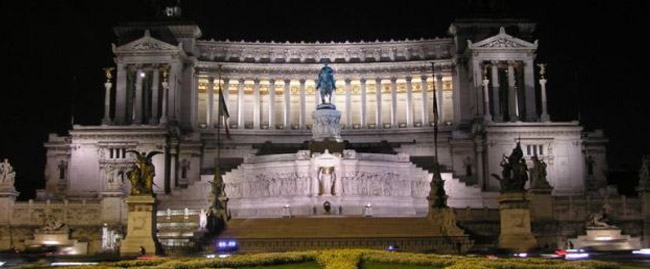 Sophia Loren Photos - Sophia Loren - Zimbio
Italian film legend, Sophia Loren opens an exhibit about her career at the Vittoriano Complex. The exhibit entitled, 'Scicolone-Lazzaro-Loren,' comprises the ...
Sophia Loren - exhibition in Rome - YouTube
2 min - Apr 16, 2007 - Uploaded by Gustav Hofer
Rome celebrated Sophia Loren's career with a exhibition in theVittoriano.
Altare della Patria, altar of the fatherland, rome monuments, ...
Similarto Altare della Patria, altar of the fatherland, rome monuments, ...
For this reason it is often known as the 'Vittoriano'. ... that in recent years has hosted temporary art exhibitions and exhibitions on the history of the 'Vittoriano'. Sid continued after this with the Granada Exhibition of Retroback in Grandada Spain 2011, followed by the Pepsi Exhibitions of Sid Maurer's Marilyn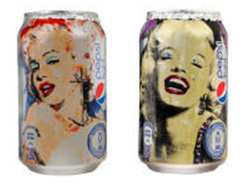 Brigitte Bardot for Museum Masters

We are proud to announce the past partnership between Brigitte Bardot and Marilyn Goldberg of Museum Masters has also been painted by Sid Maurer of Celebrity icons. In addition Maurer painted his series of "Endangered Species" which will also be exhibited to highlight Bardot's lifelong crusade against animal cruelty.

The Animal Rescue Fund (ARF) will be the major beneficiary of revenue generated from sales of merchandise, prints, paintings and a portfolio of Brigitte created by master artist Sid Maurer and renowned photographers. MMI, with international credentials in art marketing and licensing from Warhol to Haring to Picasso, to name but a few, will publish and distribute the collection.

Additionally as part of Sid Mauer's great career Celebrity Icons was contracted to paint the most famous "Penthouse Pets" for a major exhibition recently on the French Rivirera.





Mary De Vivo and Marilyn Goldberg, Pres. at closing of the formation of Brigitte Bardot International, at Le Resevoir Paris France, May 2011 photo © Museum Masters International NYC.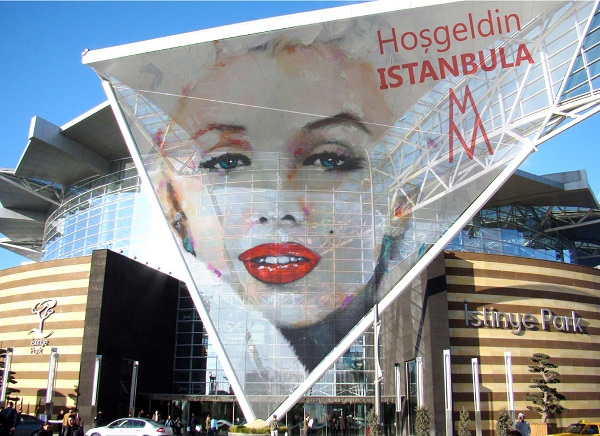 Sidney Maurer Istanbul Exhibition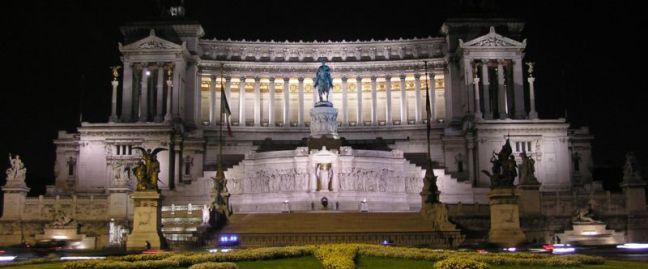 Complesso del Vittoriano
A new innovative and exciting exhibition devoted to Tamara de Lempicka's work, organized by the Vittoriano Museum Complex (Complesso del Vittoriano) from March - August 2011.

The exhibition was curated by Tamara De Lempicka specialist Ms. Gioia Mori, who also curated the 2006 major show held in Palazzo Reale in Milan.

Gioia Mori worked with a committee of leading international scholars and conservators in the field. Miss Marilyn Goldberg President of Museum Masters world exclusive representative of Tamara Art Heritage signed the exclusive exhibition contracts for Rome one year ago and has been working with Complesso Director, Mr. Nicosia and as always with the Complesso del Victorian`s art exhibitions, the project will be under the patronage of the Italian national governmental institutions.

The exhibition catalogue, edited by the curator, reproduced all exhibited works in color, licensed by Museum Masters International of New York and contained essays and catalogue entries by members of the committee and others. The exhibition was opened and inaugurated by The President of Italy, Victoria de Lempicka, and Marilyn Goldberg.

Exhibition & all reproductions of photos and paintings Licensed by MMI NYC © Tamara Art Heritage / all rights reserved. 02.01.2011 © Tamara Art Heritage / all rights reserved.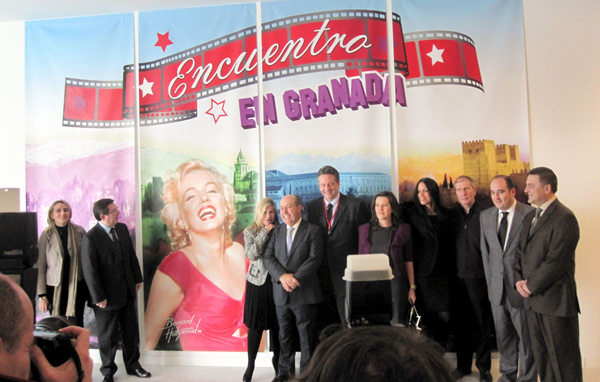 Marilyn Goldberg President of Museum Masters completed the plans and exhibition in Spain based on Bernard of Hollywood and Celebrity Icons Sid Maurer's images of Marilyn and Sophia Laren for another presentation at the Granada Film Festival Retroback.

The Festival honored the Aragon-born director José Luis Borau, a brave and veteran filmmaker, member of the Real Academia Española and former director of La Academia de las Artes y las Ciencias Cinematográficas Española.
Multiple activities were available to the public as part of the Festival.

The Granada-born designer Susana Poyatos had designed -exclusively for Retroback 2011- three outfits with the originals forms of three of the most well-known dresses from Marilyn Monroe films, but she reinterpreted them using new materials.

The book "Spanish silent cinema 1896-1920" by José Antonio Bello author, historian and researcher and "Marilyn Monroe: Fragments" by Felipe Calera, collector and author of the blog "Palacio Del Cine" was presented.

http://www.retroback.info
http://www.andalucia.org/eventos/retroback/




THE FINE ART INTERVIEW
Marilyn Goldberg


By JAMIE ELLIN FORBES



Marilyn Goldberg's father was a French physician, Nusyn Huberman; president of Le Sorbonne, Paris and many years later President of The Williamsburg General Hospital in New York. He requested from his wife Georgette Huberman to have a daughter in the late 1940's so she could be named after his idol Marilyn Manroe. He had a very personal vision of America, an eye for beauty and a wife he adored who resembled the great American beauty Marilyn Monroe. So when his daughter was born, naming her was easy: M-A-R-I-L-Y-N.

Ms. Goldberg has taken that gift — her first experience with branding — and her life honors her parents and the great Norma Jean yet carves out a place in the history of humanity that is particularly and uniquely her own. It isn't that being a successful art publisher, merchandiser, and creative home designer, creator of legendary art programs for the likes of John Lennon, Picasso, Erté, Andy Warhol, Keith Haring, Tamara de Lempicka and enough others that to list them and note their accomplishments would fill many books, it is that Marilyn Goldberg employs her love of life, of imagination, of beauty into a potent elixir that we have come to call "The Creative Life."


Living in this spirit is a full time experience for Ms. Goldberg, not an occupation. It is like breathing for her. Just as there is no peer or equal to the Icon status of Marilyn Monroe, in her field, which is her life, there is none who compares to Marilyn Goldberg. Her impact and vision as it pertains to her career in Art, Museum Exhibitions and Hampton Home Renovations, BRANDING from Mercedes, to Spiderman, to Campbell's Soup, to Marilyn Monroe's new MM Brand Logo; her newest series of MaraGold TV Animation, her style and her trademark,copyrighting, and licensing expertise world since the beginning of her career, have caused for international products she has developed and manufactured pertaining to the great artists, celebrates, and characters she has represented, and pioneered are unprecedented.

"She is the greatest promoter, and an excellent companion creatively," says Giancarlo Impiglia, the Italian Futurist who, before Absolut made him a household name, had many publications done by Ms. Goldberg with great regognition given him when she closed with The Metropolitan Opera for a limited series in the 1980's. He also created a series of silkscreen prints and posters for Marigold that were literally everywhere; starting with her shows for him at her Southampton gallery named for her son Garett and run by her two sons Garett and Darren Goldberg who beamed with pride at being "in business" as youngsters.

In 1985, when Artexpo was a the biggest show in town, people lined up at the doors of the old New York Coliseum and when they opened, many made a beeline for the Museum Masters/MariGold Enterprises booth followed by the Javits Art Expo. Her art and art-related merchandise literally sold out moments after the show opened. People built careers and art galleries based on her intuitive ideas and plethora of creative merchandise. Marigold Enterprises, with Ms. Goldberg as founder and president, was a burgeoning-firm with seemingly limitless projects involving the marketing of art in varied media. She built an industry and lifestyle from art that was the treasured gift of any home, from her porcelains made in Germany to her carpets and tapestries from Denmark.

She is a reservoir of artistic ideas and when you talk with her. the enthusiasm she generates for art, artists and her projects is more than contagious — it is powerful. Yet with all the push and hype necessarily surrounding a business that will take a Picasso painting and exquisitely reproduce it with hand drawn border designs on a scarf or tie pattern to be sold from Bloomingdales to Henry Bendels, there is an even more intense feeling one gets from Marilyn Goldberg: a positiveness detected in her genuine love and admiration of good art and good artists.
Artexpo New York Announces 30th Anniversary Hall of Fame Inductees.
Celebrating 30 Years of Excellence! (1978-2008)
In recognition of Artexpo New York's 30th anniversary, show organizers announced the names of 30 art icons to be inducted into a new Hall of Fame.
Marilyn Goldberg, president of MMI, was selected as one of these icons! A special induction ceremony and VIP reception took place at NYC's Marquee nightclub on Thursday, February 28, 2008. Artexpo's VIP buyers, exhibitors and special guests celebrated at the New York hotspot Marquee, which was named "the hottest nightclub in the known universe" by the New York Post. Guests enjoyed a night of complimentary hors d'oeuvres, cocktails and entertainment. Jane Seymore, the Emmy and Golden Globe Award-winning actress and artist hosted and emceed the ceremony. The Hall of Fame inductees' bios and examples of their work, were then displayed on the floor of the Javits Convention Center during Artexpo New York 2008.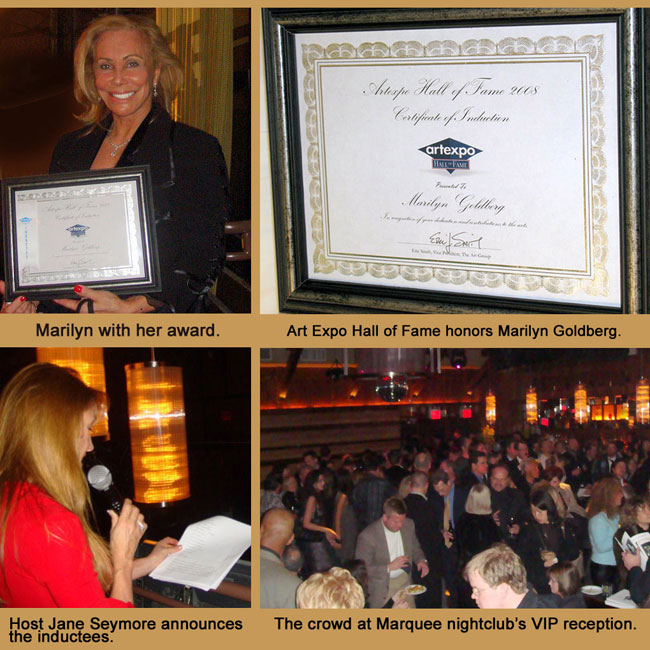 Visit the Art Expo Hall of Fame site
Click Here to read the Hall of Fame's article on Marilyn Goldberg.

The complete list of Hall of Fame inductees is as follows:
Andy Warhol
Chuck Jones
Erte
Ron English
Joel & Renee Meisner
Dr. Ron Parker
Bruce McGaw
Nancy McGaw
Agudelo-Botero Orlando
Christine Rosamond
Charles Fazzino
George Rodrigue
Crash
Michael Delacroix
RC Gorman
Salvador Dali
James Rizzi
Martin Blinder
Marilyn Goldberg
Leonor Fini
Max Papart
Marvin Rosenbaum
Bill Mack
Eyvind Earle
Nan Miller
Sylvia Chait
Victor Vasarely
Jacques Soussana
Jack Solomon
Carolyn Solomon
President of Mexico inaugurates Tamara de Lempicka: Palacio de Bellas Artes in MEXICO.
http://www.artknowledgenews.com/tamara-de-lempicka-exhibition-at-the-palace-of-fine-arts.html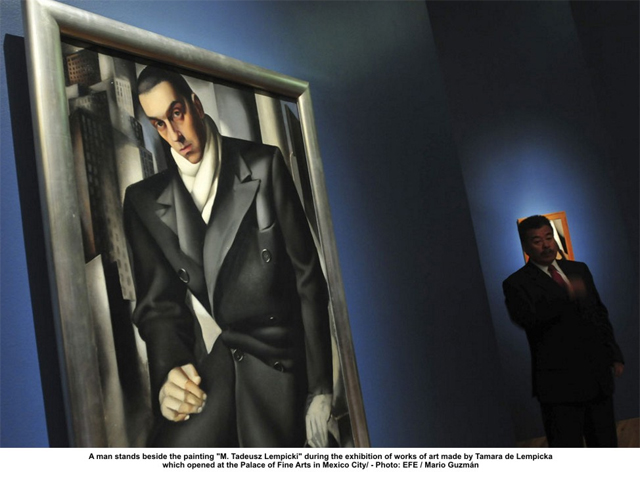 MMI VanGogh International August 2009 Hong Kong Gift Fair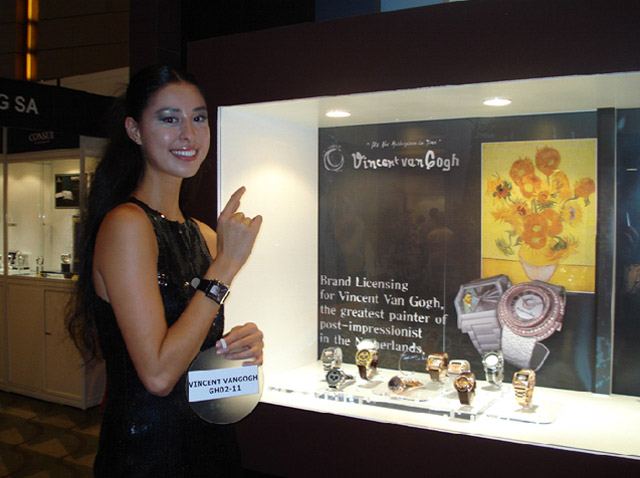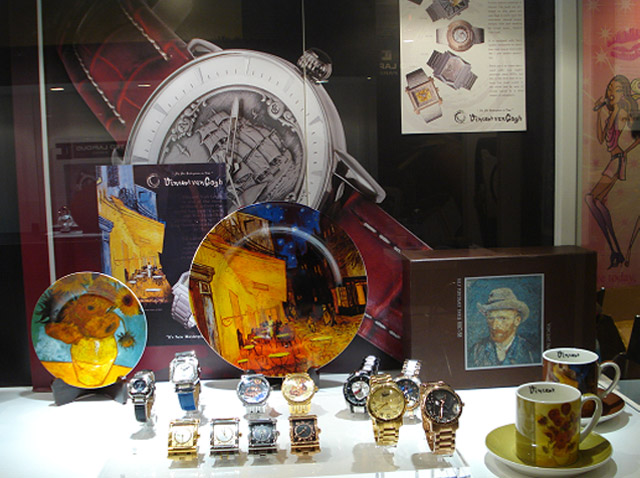 Visit the Art Expo Hall of Fame site

Click Here to read the Hall of Fame's article on Marilyn Goldberg.

MMI, the exclusive world-wide licensing agent for CowParade, had a very successful Licensing Show 2007. Back to back meetings lead to several exciting new agreements and CowParade has become one of MMI's fastest growing licensing programs! The current list of CowParade licensed products now includes: apparel, bags, ceramics and home goods, jeweled boxes, puzzles, storage boxes, prints, stationery, beach towels, and a designer carpet collection!

During Licensing Show 2007, at Jacob Javits Center NYC, Marilyn Goldberg, President of MMI, was invited by LIMA to moderate a Seminar / Panel Discussion entitled "Branding with Art - A Billion Dollar Industry." Ms. Goldberg's seminar was part of a line-up which included fellow licensing industry leaders such as Ivan Lopez of Disney, Jeff Shapiro of Fox, and Elizabeth O'Neil of Beanstalk Group. The featured panelists included Jerry Elbaum, President of CowParade; Ruben Gil, President Enjoy A Lot, Spain; Jason LeBlond Creative Director, MMI and Betsy Uribe Administrator and Contracts Manager, MMI.

"What is the licensing industry worth today?

Art-branding and Art-licensed Merchandise:
Licensing is an industry that now produces over $15 million worth of retail sales every hour, 12 hours a day, and 365 days a year!"

Tamara de Lempicka's "Portrait of Mrs. Bush" (which sold at Christie's on May 4, 2004, for a record-breaking $4.59 million) graces the cover of the latest Art Collectors Sourcebook magazine, with an excellent feature story on the artist.

Tamara-mania continues with new Italian Exhibits and Press!

Lempicka exhibition being planned for April 2008, in a historical location in Rome: The Palazzo Torlonia
Sponsored by the editors of Italy's "de lux" magazine, A Luxury Lifestyle magazine.

L'arte delle donne dal Rinascimento al Surrealismo

(Women Artists from the Renesaaince to Surrelaism.)

At the Palazzo Reale, Milan from 5th of December 2007 untill 9th Tamara de Lempicka returns again to the Palazzo Reale which hosted the Lempicka retrospective last fall.Tamara will be featured along-side other legendary artists such as Camille Claudel, and Frida Kahlo!

Tamara's art to be featured in a forthcoming Spike Lee film! The producers of the new Spike Lee film "Miracle at St. Anna" now shooting in Rome, have secured rights via MMI to decorate the film sets with the dramatic and glamorous images of Tamara, the Deco Diva!

Planeta Lempicka Promotion:

Following the success of the recent Lempicka exhibition in Milano, La Fundación Caixa Galicia host the next location for the Lempicka retrospective at Casa das Artes in VIGO (PONTEVEDRA) SPAIN, From April 18, 2007 - July 15, 2007. As representative for Ms. Victoria de Lempicka, MMI negotiated the rights for the exhibition as well as developed exhibit merchandise including notebooks, bags and scarves featuring images by the one and only "Deco Diva", Tamara de Lempicka!





MMI NEWS BROADCAST Fall 2014"
Marilyn Goldberg, President of MMI, has been invited to curate and organize the first exhibition in Athens Greece for Frida Khalo. The inaguration of the exhibition will be October 12 2014 and has the official accord with the Mexican Government, whose President opened MMI's Tamara de Lempicka exhibition.


Frida Kahlo:
MMI is pleased to announce it's celebration of the 100th Anniversary of Frida Kahlo, which takes place officially on 07/07/07!



"MMI NEWS BROADCAST WINTER 2007"
January, 2007: Marilyn Goldberg, President of MMI, has been invited to moderate a panel discussion at the LIMA Licensing University on Wednesday, June 20, 2007 at 3:00pm - 4:30pm entitled "Branding with Art - A Billion Dollar Industry."

The panel will feature Ms. Goldberg in the company of licensing industry leaders such as Ivan Lopez of Disney, Jeff Shapiro of Fox, and Elizabeth O'Neil of Beanstalk Group.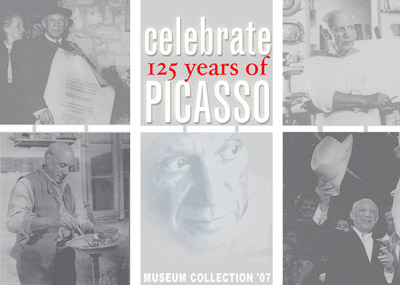 Picasso's 125th Birthday Celebration brings several exhibitions worldwide, thus MMI has compiled a new catalogue, Approved by the estate for sales to international museum gift shops.

Presenting MMI's Picasso Museum Collection '07 Catalogue. Approved by Succession Picasso, Paris.
For information on current Picasso exhibitions please visit the following link (click on "Site Map" then "Exhibitions")
http://www.picasso.fr/anglais/index.htm


Oct 4th 2006: Marilyn Goldberg, President of MMI, was the guest hostess who initiated the opening of the Tamara de Lempicka retrospective at the Palazzo Reale, Milano,

on behalf of the artist's granddaughter Victoria de Lempicka. The exhibition marked the return of Tamara 80 years after her very first solo exhibition in the same location! There

was an overwhelming response from the public(see below) and in the press, including a large feature in Italy's "CHI" magazine.

Tamara de Lempicka Retrospective at Musee des Annees 30 (Museum of the 30s)
Following the success of the exhibits at the Royal Academy, London and the Kunstforum, Vienna, a major exhibition of Lempicka's works will be unveiled in Paris during Spring of 2006. Lempicka continues to rise in original painting value from the international exhibition exposure. The era of Deco has created a new renaissance..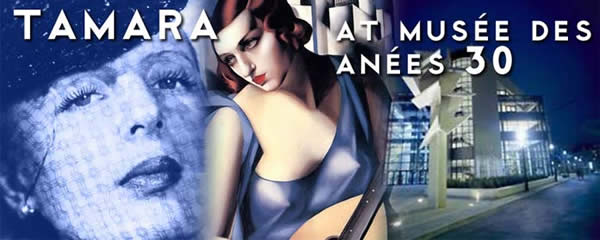 Licensing 2005, Javits Center, NYC

Announced release of Collection Royal Palace, Taiwan. Marilyn Goldberg, president MMI, was guest of honor and conducted interviews for Taiwanese television.
Lempicka News:
One of MMI's long-term projects has been the development and growth of the public's awareness of Art Deco Icon Tamara de Lempicka, on behalf of the Estate. Lempicka's visionary artwork epitomizes the decadence and glamour of Paris in the 1920s and 30s.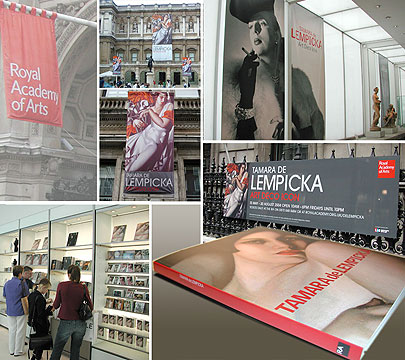 MMI collaborated with London's Royal Academy, during the spring of 2004 to organize the first major Lempicka retrospective in the UK. Her elegant and extravagant lifestyle was documented in its totality by this stunning exhibit which featured 55 works loaned from various galleries and private collectors.

MMI represents and honors Victoria de Lempicka, granddaughter of Tamara, and made all necessary arrangements for European press and media to interview Victoria, who arrived in London to open the exhibition on May 18, 2004. Eleven years of work went into preparing the details that formed the possibility of this great event! Marilyn Goldberg, President of MMI, and Jason LeBlond, Creative Director, were noted in the Royal Academy's catalogue raisonné for their excellence in set-up of exhibition needs.
MMI developed all the merchandise for the RA's gift shop, which included a high quality stationery line of calendars, agendas, notebooks, greeting cards, bookmarks and posters by LEM Art Group of Milano, Italy. RA, under official license through MMI, also featured an exhibition catalogue, postcard book, refrigerator magnets, exhibition poster, fashion tops & knickers sets, tote bags and a music cd with tunes from the Art Deco era. In Tamara "larger then life" fashion, an enormous banner utilizing a dramatic photo of Tamara circa 1938, provided by MMI, was displayed outside the exhibition entrance. (Pictured Below.) The retrospective next completed a successful run at The Kunstforum Museum, Vienna in September of 2004.
Further enhancing the nouveau boom of Art Deco was a separate exhibition celebrating the entire Art Deco époque, which traveled from London's V & A to San Francisco's Legion of Honour and finally MFA, Boston. Tamara's "Jeune Fille en Vert (Girl in Green)" was the enticing cover girl for all promotional materials for this exhibition. The assorted exhibitions stimulated a myriad of new licensing venues for this incredible painter and incredible woman, who was so ahead of her times!
In May of 2004 Tamara's "Portrait of Mrs. Bush" set an auction record, hammering in at $4.5 million dollars and after 35 years of marketing by Museum Masters prices rose over $10 Mil dollars. Based on Marlyin vision after filing copyrights for all of her artists and designing their trademarks. was awarded the "Hero Of Creativity".